Our trusty mouse caused a little bit of a stir with last week's story about Intuit yanking out key functionality from TurboTax Deluxe, and selling it back to customers via a $30 – $40 upgrade charge. There are now over 1400 one-star reviews on Amazon with consumers fuming over the changes and charges.
Game 1:
In the course of testing TurboTax Deluxe 2014, we discovered something curious with respect to the price they were charging for upgrades. If you needed to enter detailed information about investment transactions, for example, the program threw up this roadblock and advised that you would have to upgrade to "Premier" for an extra charge of $30.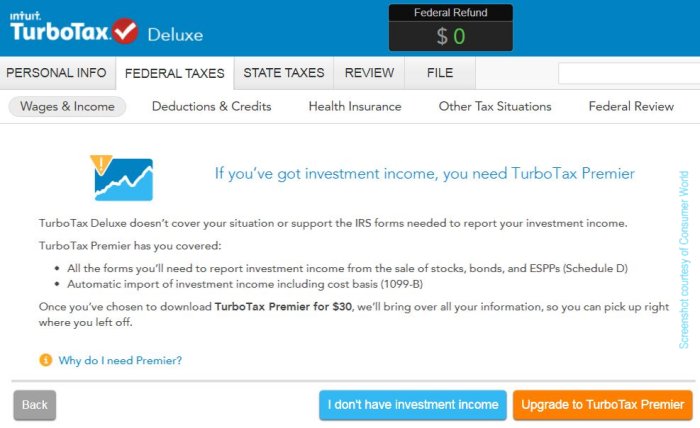 When going back to that section subsequently, on occasion the program would change the price for the required upgrade:
*MOUSE PRINT:
The fee dropped from $30 to $25. Going back another time, however, it was back up to $30. There was no rhyme or reason for the varying prices. Also, in the self-employment income section, the user is alternately presented with either a $30 or $40 up-charge to go from TurboTax Deluxe to "Home & Business." Maybe Intuit is testing various price points to see what amount will be most palatable for users.
---
---
Game 2:
Another strange pricing disparity cropped up last week on the TurboTax website. When we first checked prices for downloading the desktop version from their website on December 25, this was the pricing shown:
TT Deluxe was $59.99, with federal and state forms included.
Roughly two weeks later, on January 9th, it looked like things had changed.
*MOUSE PRINT:
Now it says that for $59.99 you seemingly only get the federal return because it says "state additional." Clicking on the state additional link does not exactly clarify matters.
Well, which is it, Intuit? Is state included or not? There is a big difference between "state additional" and "additional state."
---
---
Game 3:
And one last example. In the pricing charts above, buying TurboTax directly from Intuit seems to give customers a $10 discount off what appears to be the regular or list price. According to both Amazon and Target, however, the "list price" for each of the four editions of TurboTax 2014 is $10 lower than Intuit represents. For example, while Intuit says that TurboTax Deluxe is regularly $69.99 but is now on sale for $59.99, Amazon and Target say that $59.99 is the list price for TurboTax Deluxe to start with. Hmmm.